TMMSN Highlights and Updates
Click here for news archives...
As of Feb. 2013, we will no longer be posting news highlights here. Please visit our facebook page for current updates:
January 29, 2013
TMMSN responded to a deceased manatee near Matagorda, performed a necropsy and collected data on the stranding event. Manatees are rarely found on the Texas coast and have a tough time surviving the winter months here.



January 20, 2013
TMMSN rescues bottlenose dolphin that ran aground in the shallows and became trapped near Talley Island just south of Rockport, TX. Upon examination, the animal was found to be very strong and in good body condition, believed to be out of habitat only, and deemed releasable. After some valiant efforts by the team, the animal was captured and released to deeper water in Aransas Bay where he swam away strongly. Success!




December 21, 2012
Large fin whale washes ashore on Matagorda beach, investigated by TMMSN



December 13, 2012
A live bottlenose dolphin stranded on PINS in Corpus Christi, TX on Thursday. Unfortunately, the dolphin died on the beach just prior to transport to rehab. We can't thank PINS Science & Tech Division enough for their valuable support and efforts on the beach to support this animal.



October 19, 2012
Second live stenella sp. recovered by TMMSN on PINS today, however, instead of a Clymene dolphin(Stenella clymene), a Spinner dolphin (Stenella longirostris) stranded. Unfortunately, the Spinner dolphin died shortly after arrival to rehabilitation.


Read more about the rescue

October 14, 2012
TMMSN rescues a Clymene Dolphin (Stenella clymene) from Padre Island National Seashore.


October 1, 2012
Be sure to join TMMSN for our Land and Sand 10K, 5K & 1K runs on Saturday, November 17th @ East Beach in Galveston. Register or sign up to volunteer today: LandandSandRun.com

September 15, 2012
Have you seen a manatee? We are asking the public to report any manatee sightings to TMMSN immediately at 1-800-9-MAMMAL. TMMSN is tracking the condition of manatees in Texas to help us monitor them as the winter months approach. http://galvestondailynews.com/story/352698

August 22, 2012
Its time to renew your link on your Kroger Card. Link now and you'll earn money every time you shop at Kroger for TMMSN. Easy as pie. Click on this PDF link and take the printed barcode or save to your mobile phone for scanning at your next trip to Kroger.

June - August, 2012
The TMMSN conducted and continues to conduct Whales on Wheels dolphin rescue training and marine mammal bones exploration with young visitors to Galveston at the San Luis Resort, Hilton Resort and Holiday Inn Resort.



July 23rd, 2012
The Texas A&M Galveston Sea Camp TAG (Talented and Gifted) group visited the TMMSN Facility for a full day of marine mammal rescue, rehabilitation and research activities.


July 11th and August 1st, 2012
The Texas A&M Galveston Sea Camp Marine Mammals group visited the TMMSN Facility to learn about our marine mammal rescue, rehabilitation and research activities and conduct necropsies (animal autopsies) on real bottlenose dolphin specimens.



July 5, 2012
The Whales on Wheels program traveled all the way out to Sweeny, Texas! The TMMSN visited kids at the Sweeny Library to teach them about marine mammal rescue and rehabilitation, teach them how to rescue a stranded dolphin, and show them some real marine mammal bones.


June 9, 2012
NOAA Fisheries has declared an Unusual Mortality Event for Bottlenose dolphins in Texas

NOAA Fisheries has officially declared a new Unusual Mortality Event(UME) for Texas bottlenose dolphin strandings that occurred from November 2011 to March 2012. Counties experiencing the elevated stranding numbers were Aransas, Calhoun, Kleberg (south Texas) and Galveston and Brazoria (north Texas). The strandings involved a total of 123 dolphins (119 dead and 4 live).

Designation as a UME will bring more focus and resources to help the investigation. As part of the Unusual Mortality Event investigation process, an independent team of scientists will coordinate with the Working Group and TMMSN to review the data and determine the next investigative steps. Since HABs were documented in the near shore waters of Texas around the time of the UME, we will be investigating whether HAB associated biotoxins played a role in these mortalities.

Information to date has not identified a common cause of the event. Further analysis is needed to determine if there are single or multiple factors occurring in this event. At this time there is no obvious relationship between the Texas UME and the UME previously declared for the northern Gulf of Mexico in 2010. However, pathologists are comparing samples to see if a relationship does exist and more will be known once the samples have been analyzed.

Upcoming Events for June 2012:
We have booths at the following:
June 9- Texas Coastal Expo
June 9- Bay Day
June 20-24 - Houston Boat Show

June 7, 2012
Sea Camp begins for the summer. TMMSN had TAMUG's first group of sea-campers come through our facility to learn about marine mammal rescue and rehab--we're looking forward to a busy summer season of education!

May 5, 2012
Into the Blue 2012 was a success thanks to our supporters!

May 3, 2012
May 3rd- Our first "Gulfy and Friends" Presentation was a Success!
April 17, 2012
ArtWalk Exhibit
ArtWalk benefitting the TMMSN will be this Saturday, April 21, 2012 6pm-9pm on The Strand in Galveston. Click for more information.

Earth Day - Bay Day 2012
TMMSN will be participating in the Bay Day 2012
Saturday, April 21, 2012 10am-5pm
Heritage Park, Corpus Christi, TX
Click for more information.

Half Price Books
For the month of April, Half Price Books at Clear Lake will be promoting marine mammal conservation by collecting donations for the Texas Marine Mammal Stranding Network and selling the children's book Stranded: Stormy's Adventure with all proceeds going towards marine mammal rescue and rehabilitation!
Half Price Books will be collecting monetary donations and donations of select items from the TMMSN Wish List (can be viewed on-line here).
Visit Half Price Books Clear Lake at 961 NASA Parkway in the Village Real Shopping Center to learn more about TMMSN, make a donation, and check out the wonderful children's book about a young dolphin's rescue and rehabilitation by the TMMSN!
From 11a.m. to 3 p.m. on Saturday, April 21st, the TMMSN will be making an appearance at Half Price Books with our fun and educational mascot, Gulfy! This will be your chance to learn more about the TMMSN and to meet Gulfy. Bring your kids and your camera!

April 1, 2012
TMMSN had an educational and merchandise booth at the Evia Spring Market in Galveston.

March 31, 2012
TMMSN held a booth at the Trash Bash Expo in Texas City!



March 27, 2012
Sponsorship opportunities now available for Into the Blue 2012! See our Into the Blue page for information on the event, sponsor opportunities, and auction item donations!


March 24, 2012
Ocean Discovery Day 2012 was another great success this year! Over 1,000 people were able to come into our facility at the open house and learn more about TMMSN, dolphin rescue, and much more! Thanks to everyone that came out to see us and for all of your great donations towards our work. We look forward to next year!

March 23, 2012
NOAA announces findings of the dolphin health assessment that members of the TMMSN participated in last year. Based on comprehensive physicals of 32 live dolphins from Barataria Bay in the summer of 2011, preliminary results show that many of the dolphins in the study are underweight, anemic, have low blood sugar and/or some symptoms of liver and lung disease. Nearly half also have abnormally low levels of the hormones that help with stress response, metabolism and immune function.
Read more about the findings of the dolphin health assessments in Barataria Bay here.
Watch a video from MSNBC.
TMMSN continues to contribute knowledge, data, and samples collected from stranded marine mammals along the TX coastline.

March 17, 2012
TMMSN held a booth at the Market on the Strand in Galveston where visitors were able to get information on the TMMSN and purchase merchandise.

March 13, 2012
Mark your calendars! The new and improved Into the Blue fundraiser is coming soon! Click here to find out more about the event and purchase your tickets!



March 12, 2012
The TMMSN gift shop was updated with new items! We are now carrying Men's and Women's Sport Polos, an embroidered T-Shirt, and a TMMSN Duffel Bag. We also have a brand new ball cap and new sticker designs. More sizes have also been added to our existing clothing choices. Head over to our Gift Shop to see the latest new inventory!

March 10, 2012
TMMSN volunteers were very busy with events! We had a booth at the Galveston Home and Garden Show and held our own exhibit at the Galveston ArtWalk! Click here to view photos of both events! Thank you to all who came out and supported us at our ArtWalk exhibit!

March 6, 2012
TMMSN kicked off March as "Dolphin Awareness Month" in full swing with a dolphin rescue tonight in Galveston, TX.

Shortly before Sundown Tuesday, March 6th, several local fishermen observed a dolphin strand near Sea Isle in marshes of Galveston Bay. The dolphin was seen feeding for a period before it swam in quickly towards the shore and found itself stuck in the shallows until the tide went out, stranding the dolphin. They contacted TMMSN, where rescuers responded. Upon arrival the team waded across the bay and after an assessment of the dolphin's condition, consideration of the nature of the stranding, and the extreme low tide, the decision was made to relocate to deeper waters of the Gulf and release the dolphin immediately. After a moment to get his bearings, the dolphin swam away strongly. It was a tough trek during this night rescue for all involved including the fishermen, volunteers at the pier, and TMMSN rescue team but all were thrilled to see the animal released!



March 3, 2012
The TMMSN held our annual Citywide Dolphin Rescue Day in Galveston! Click here to view photos of the event on Facebook.

February 22, 2012
March is Dolphin Awareness Month in Galveston! Click the link below to find out where our Education Team will be in March!
Dolphin Awareness Month

February 19, 2012
TMMSN and mascot Gulfy participated in the Galveston Island Humane Society's Krewe of Barkus and Meoux Mardi Gras Parade. A large crowd came out to see Gulfy, our excellent TMMSN volunteers, and lots of cool pets!
Click here to see photos from the event.



February 14, 2012
The TMMSN has been busy in all regions responding to and recovering stranded dolphins as "Stranding Season" is definitely upon us. Nearly all have been deceased and in varying levels of decomposition. Stranding Season generally takes place from about January-March on the Texas coast. It is a normal phenomenon that occurs each year. Because the TMMSN completes a full investigation of each animal, it is very important that the public continues to report any stranded animals to the TMMSN, live or deceased. Dolphin recoveries involve very hard work, often in unpleasant weather conditions, and we truly appreciate each and every volunteer who has given their time to assist us!
Included below are photos from recent recoveries, however please be advised that they are graphic images.



January 30, 2012
Information on the Texas "Stranding Season" published in The Galveston Daily News Letters to the Editor:
Group Responds To Stranded Dolphins
To the surprise of many, dolphin strandings are not rare in Galveston, particularly during "stranding season" (January through March) — as it is referred to by the Texas Marine Mammal Stranding Network, a local nonprofit.
Network members aim to respond to every stranding, live or dead, an average 150-200 annually.
The team responds to transport live dolphins to the organization's new rehabilitation facility on the island. If the dolphin is deceased, the research team collects data according to decomposition to determine the cause of stranding.
Not even halfway through the season, a number of strandings have been reported to 800-9MAMMAL.
For 30 years, the network has buried dolphins with volunteers and shovels, and it continues to do so. Carcasses are often very large, so this is no small feat.
The Galveston park board recently has been supportive, by reporting and removing carcasses from popular beach sites like the seawall.
But data must be collected from the protected animals before removal, so the animal is tagged with marking paint by the network when collection is complete.
Next time you see a stranding, report it and keep in mind TMMSN completes all response efforts with donations and volunteer hours.
Although highly important, this work is not federally or state funded. Read more at dolphinrescue.org.
Heidi Whitehead
Galveston

January 24, 2012
TMMSN responded to a report of a live dolphin stranding at the Sands of Kahala on West Galveston Island. Upon arrival, the TMMSN found a young male bottlenose dolphin, estimated to be between 1 and 2 years of age. Unfortunately, the dolphin was very weak and died during transport to the rehabilitation facility in Galveston. A necropsy was completed at our research laboratory immediately following. The dolphin was reported by beachgoers and they did a great job of supporting the animal until the TMMSN arrived.

January 6, 2012
Bo's page has been updated with new photos and information on his rehabilitation and disposition.

January 3, 2012
Our Wish List has been updated!

2011 TMMSN News

November 30, 2011
An update on our most recent rescue has been posted on her page. Visit PO480's page to read the latest on her condition and care.

November 27, 2011
Our newest patient, PO480's rescue page is online and can be viewed here. See photos of PO480 and donate toward her care.

November 26, 2011
The TMMSN rescued a live female bottlenose dolphin this afternoon from Sargent, TX. The animal was transported to our rehab facility in Galveston. The animal remains in critical condition and is currently being cared for by staff and volunteers around the clock.
Check this page for updates.



November 19, 2011
The TMMSN hosted an educational facility tour and mock stranding exercise at our Galveston rehab and research center for students from the Lone Star College in Kingwood.

November 19, 2011
The TMMSN will be conducting a training day for new volunteers for the Corpus Christi region this Saturday, November 19th. There are still several spots available. Those interested in attending may download the volunteer application from the Volunteer page of our website and submit it to kenneth.brown@tamucc.edu.

November 13, 2011
TMMSN welcomed another new class of volunteers with a New Volunteer Training Day held at the TMMSN's Galveston facility. Welcome new volunteers!
Click the photos below to see more photos from training day on our Facebook page.



November 8, 2011
TMMSN Recovers Two Deceased Dolphins
The TMMSN is preparing for stranding season after recovering two deceased dolphins today. Dolphin strandings usually increase each fall at the end of November and continue for several months with the peak of the season falling between January and April.
Monday, November 7, the TMMSN received a call in the evening for a deceased dolphin on the Texas City Dike. We investigated and found a large male bottlenose dolphin (Tursiops truncatus) measuring 8.7 feet. After securing the animal overnight, the TMMSN returned in the morning to take samples and remove the carcass.
Tuesday, November 8, the TMMSN received a call for a deceased dolphin on the east end of Galveston Island. The TMMSN responded and removed a small female bottlenose dolphin (Tursiops truncatus) measuring approx. 4-5 ft. The animal was brought back to our research laboratory where a necropsy will be conducted.

November 3, 2011
TMMSN responded to a call for a deceased dolphin on Galveston Island. We recovered a Code 3 Clymene dolphin (Stenella clymene) and transported the animal to our research laboratory where a detailed necropsy will be conducted soon.



November 2, 2011
TMMSN State Operations Coordinator Heidi Whitehead spoke at a Marine Recreation Community Workshop presented by National Geographic at the Historic Hotel Galvez in Galveston, TX.



October 29, 2011
Weis Middle School in Galveston hosts a Fall Festival where visitors can participate in fun fall games, explore a haunted house, and enjoy cultural performances. The TMMSN hosts an educational booth at this event, and will feature the bottlenose dolphin mascot, Gulfy!
ECU/WEIS Middle School Fall Festival

October 28, 2011
TMMSN announces new clearance merchandise in the online gift shop! Get your favorites while they last!
TMMSN Clearance Merchandise

October 27, 2011
Atascocita High School students from Humble, TX visit the TMMSN Facility to learn about marine mammal research and conservation, conduct a mock marine mammal stranding and rescue, and tour the facility.



See our News and Event Photos on FACEBOOK!

---

Official TMMSN Rescue Postage Stamps are Now Available: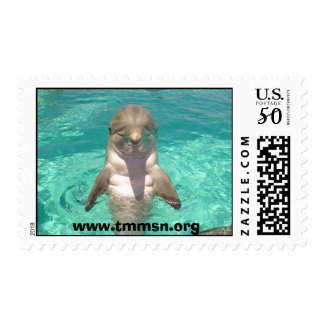 Cupid, a TMMSN Success Story at His New Home!





Thanks to a company called Zazzle (an approved licensed vendor of the US Postal Service), you can now order new custom TMMSN U.S. postage stamps.

Click on the stamp above for more information and to place your order today. A portion of each sale will benefit TMMSN.
Official Texas Marine Mammal Stranding Network License Plates Available Now!

Now you can raise money for TMMSN just by searching the internet:
Raise money for

your favorite charity

just by searching the web and shopping online!
GoodSearch.com is a search engine that donates half its revenue to the charities its users designate. Just go to http://www.goodsearch.com and be sure to enter The Texas Marine Mammal Stranding Network as the charity you want to support. GoodSearch.com estimates that each search will raise $0.01 for The Texas Marine Mammal Stranding Network. Just 500 of us searching four times a day will raise about $7300 in a year without anyone spending a dime! Remember - each time you use this search engine, you are generating money for TMMSN rescue and rehabilitation efforts!
Now you can help TMMSN with every purchase you make on Amazon.com! Just remember to use the Amazon.com link on the TMMSN website to access Amazon.com, and Amazon.com will track your purchase and link it back to TMMSN. 5% of your purchase total will be donated to TMMSN. Easy as pie.

Kroger Shoppers Can Earn Money for the TMMSN Just by Shopping with the new Kroger community rewards program:

Shoppers can link their Kroger Plus card to the Texas Marine Mammal Stranding Network, by presenting our barcode to the cashier the next time they check out. The cashier will scan their Kroger Plus card and then the barcode to link to our organization. Once the process is complete, the customer will be enrolled as a supporter for the remainder of the current program year. Every time the customer shops, a portion of their sale will be contributed to the Neighbor to Neighbor fund. Participating charities are awarded a percentage of the $1 million payout that reflects the number of qualifying purchases made during the program year.
To learn more about the Kroger program and how to get involved, visit: http://www.kroger.com/community/Pages/community_rewards.aspx
2011 TMMSN News Continued


October 20, 2011

"From Soldiers to Science: 100 Years of Fort Crockett History" was a special celebration hosted by NOAA commemorating the history of the property. The event was a hit among NOAA supporters and employees from across the nation. Many NOAA guests got their very first look at the new TMMSN Marine Mammal Rehabilitation and Research Facility. Special thanks to Barbara, John and Krysta for their assistance.
From Soldiers to Science: NOAA Celebrates 100 Years of History at Fort Crockett

October 12, 2011

Did you know the San Luis Hotel here in Galveston has a giant pirate ship in one of their hotel rooms? This is where they host the Spa San Luis Kids Club and the TMMSN was a featured presenter to a group of enthusiastic kids of all ages.



October 8, 2011

The TMMSN had a merchandise booth at the Bay Area Dive Market. A big shout out to Christina, Hiep, Carry, and Brittney for their help at the Dive Market!

October 8, 2011

The TMMSN welcomed almost 30 new volunteers at a Volunteer Training Day at the facility. Thanks Thresea, Kay, Lauren, Barbara, Rebecca, Lynette, and Cody for their assistance at the training day.


September 24, 2011

The TMMSN had a booth at the Houston Zoo Enrichment Day. Special photos and marine mammal enrichment items were displayed, and young visitors had the opportunity to get their faces painted. Many thanks to John, Jennifer and Christina for running this booth!
Enrichment Day at the Houston Zoo
September 19, 2011
A second pre-screening of the film, Dolphin Tale, was shown at the Edwards Theatre in Houston. A representative from TMMSN spoke to the audience about marine mammal rescue, rehabilitation and conservation in Texas. The TMMSN thanks Warner Bros. for this great opportunity.
September 17, 2011
The TMMSN had a booth at the Houston Zoo "Get Out and Play!" Day. Special thanks to Kay, Michele and the Jorgensons for teaching audiences how to rescue stranded marine mammals!
Get

Out and Play! at the Houston Zoo
September 16, 2011
TMMSN responded to CC228- a 7.5 ft, 250lb live melonheaded whale (Peponocephala electra) stranded on Padre Island National Seashore. Unfortunately, the animal did not survive. It was transported to Galveston where a necropsy was conducted at our research laboratory the following day. The pathology report will be posted on the research page of our website when it is available.
Click for larger images
September 2, 2011
The Fay School in Houston invited TMMSN to teach their elementary school students about marine mammals and marine mammal conservation. We are greatly appreciative of the Fay School's continued support!


September 1, 2011
Texas A&M University at Galveston hosted an Organization's Night at their campus to introduce new students to clubs/organizations around Galveston. The TMMSN had the opportunity to share our information with these students, as well as gain some new members and volunteers. A big thank you to Courtney, Brittany and Brenda for representing us!
August 7, 2011
TMMSN Job Postings - Galveston, TX
Click to view postings and for information on how to apply
July 30, 2011
The TMMSN has been invited to participate at the Houston Downtown Aquarium Shark Weekend event on Saturday, July 30th and Sunday, July 31st from 10 a.m. to 6 p.m. each day. We will have a booth set-up with some merchandise, marine mammal bones, and a mock stranding activity for kids.
Saturday the 30th - 10 a.m. to 2 p.m.
Saturday the 30th - 2p.m. to 6 p.m.
Sunday the 31st - 10 a.m. to 2 p.m.
Sunday the 31st - 2 p.m. to 6 p.m.
July 23, 2011
The TMMSN will have an outdoor booth and mock stranding activity for kids and families at Discovery Green Houston on Saturday, July 23rd from 11:00 a.m. to 3:00 p.m. Come check us out!
http://www.discoverygreen.com
July 13, 2011
The TMMSN hosts an educational necropsy demonstration at the TMMSN laboratory for the Texas A&M Sea Campers.

June 18, 2011
The TMMSN presented at the Texas Coastal Expo at Moody Gardens with over a hundred other Texas coastal interest groups. The public used the opportunity to learn about the TMMSN mission and children were able to "rescue" dolphins with a remote control rescue truck!
June 10, 2011

TMMSN Corpus Christi Training Day Scheduled for June 18, 2011 at Texas A&M University-Corpus Christi
Class registration begins at 8:30 to 9:15 with the lecture portion will begin promptly at 9:30 am. There will be a break for lunch from 12:30-1:30 and which time training will resume at the University Beach---so be prepared to get wet. The training class should be over by 3:30-4:00pm depending on class size.

What you need to bring: Pencil/Pen & paper for the morning lecture; swimsuit/wetsuit, water shoes/booties (no flip flops!) and towels for the beach session.

Cost: Cost is $25.00 for students, $50.00 for non-students. This will also get you a one-year membership in the Texas Marine Mammal Stranding Network and a volunteer manual. (Cash or check is preferred—we are not set up for electronic processing of credit cards) T-Shirts and other items will be available for purchase if you're interested.

If you have any questions call Kenneth Brown at 361-728-6069.
June 4, 2011

The TMMSN Galveston Region Welcomes 25 new volunteers!
May 25, 2011

The TMMSN hosts educational booth at the BayDay Festival in Kemah, TX
May 24, 2011

The TMMSN Begins New and Updated Marine Mammal Education Programs Summer 2011
May 17, 20111

Requesting Help from the Public to Track an Entangled Atlantic Bottlenose Dolphin
The TMMSN will be at the following May Education Events:
Oppe Elementary Coastal Carnival
2011
May 7th, 12:00 p.m. - 4:00 p.m. on the school grounds Galveston, TX
Bay Day Family Festival 2011 Celebrating Galveston Bay
May 21st, 11:00 a.m. - 5:00 p.m. at the Kemah Boardwalk Kemah, TX
April 4, 2011
The TMMSN Education team has been very busy this Spring!
Check out some photo highlights from our spring education program!
March 5 -6, 2011
The TMMSN Education Team had an exhibit and sales booth along with other conservation organizations at Sea World of Texas for the Jack Hanna Wild Days Event
February 23, 2011
The Texas Marine Mammal Stranding Network Recovers an adult Pygmy Sperm whale
TMMSN 2011 Educational Program Starts in February! You'll see us at the following events this Spring:
February 27th, 2011
Houston Zoo Teen and Young Adult Career Conference
1:00 pm - 4:00 pm at the Houston Zoo
March 6th, 2011
Krewe of Barcus and Meoux Walking Pet Parade
Time of event TBA
March 12th, 2011
Baywatch Dolphin Tours
10:00 am - 4:00 pm at the Baywatch booth in Galveston, TX
March 19th, 2011
Free Dolphin Rescue Training Day for the Public
10:00 am - 2:00 pm
53rd and Seawall
March 26th, 2011
Ocean Discovery Day at NOAA
9:00 am - 3:00 pm at the TMMSN Facility
The facility will be open to the public, and we will have kid's activities, signage, a table with bones, guided tours, etc.